Los viajes en avión hoy en día se han vuelto muy asequibles y por lo tanto es muy común viajar con este medio de transporte. Hoy os traemos algunas frases útiles en inglés que os serán de gran ayuda cuando estéis en el aeropuerto.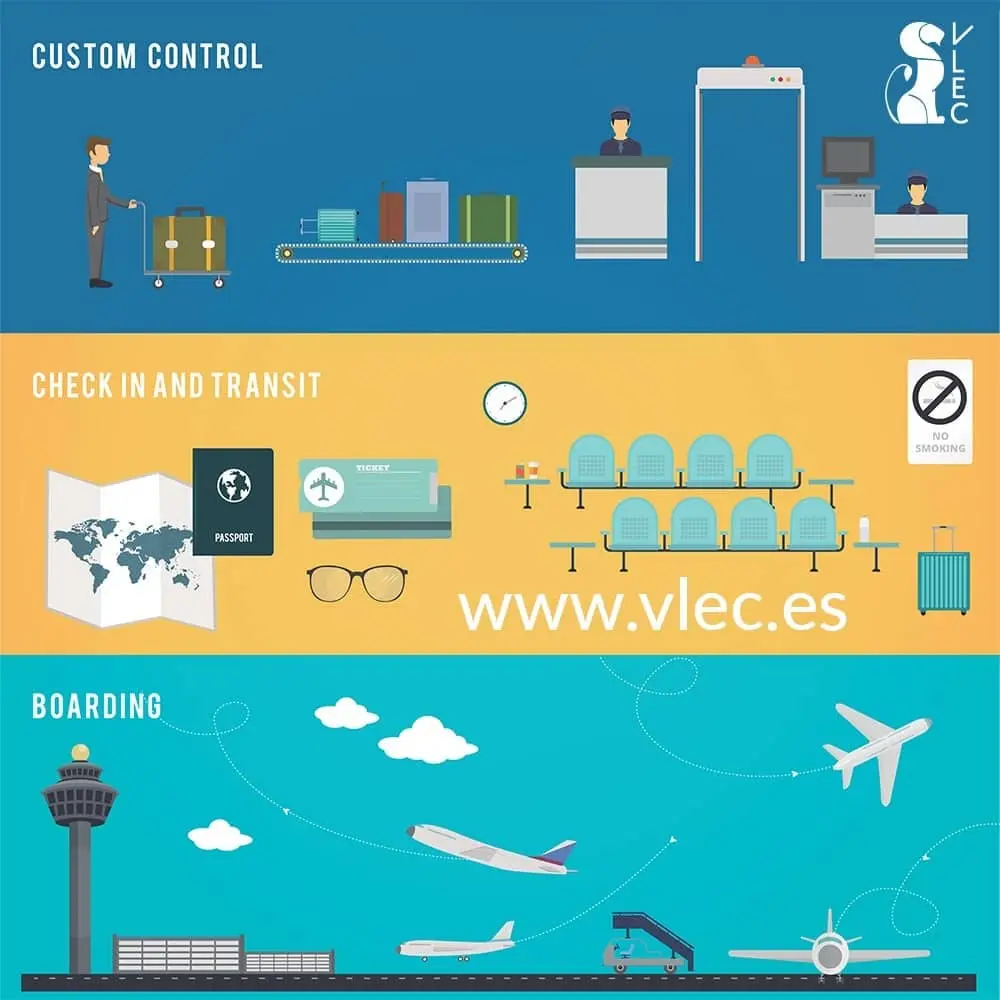 ¿Sabías que el inglés  es el idioma hablado por todos los controladores de trafico aéreo y pilotos de avión sin importar su nacionalidad? Cómo podéis ver el inglés es un factor clave  en este tipo de entornos.
Vocabulario aeropuerto:
---
Boarding pass – Tarjeta de embarque
Check-in desk – Mostrador de facturación
Book – Reserva
Overbooking – Sobre venta (de asientos)
Carry-on luggage – Equipaje de mano
Suitcase – Maleta
Checked luggage – equipaje facturado
Baggage allowance – Límite de equipaje
Oversized baggage/Overweight baggage – Sobrepeso del equipaje
Conveyor belt/carousel/baggage claim – Zona de recogida del equipaje
Departures – Salidas
Arrivals – Llegadas
Gate – Puerta de embarque
Delayed – Vuelo con retraso
Shuttle bus – autobús de traslado
Aircraft – Avión
Cockpit – cabina del piloto
Crew – Tripulación
Air hostess – Azafata
Seat belt – Cinturón de seguridad
To take off – Despegar
To land – Aterrizar
Turbulence – Turbulencias
Bumpy flight – Vuelo turbulento
Connecting flight – Vuelo de conexión
Round trip – Ida y vuelta
One way – Solo ida
Customs – Aduana
Coach class – clase turista
First class – primera clase
Business class – clase business
Verbos:
---
to board – embarcar
to depart – salir
to arrive – llegar
to take off – despegar
to land – aterrizar
Frases útiles en inglés
Vamos a ver algunas frases útiles en inglés para el aeropuerto como preguntas y respuestas frecuentes.
---
Do you have a boarding pass? –  ¿Tiene su tarjeta de embarque?
Do you have any baggage to check? – ¿Tiene equipaje para facturar?

Is there a layover? – ¿Hay una parada?
Only one carry on item is allowed – Sólo está permitido un artículo de mano.
Would you prefer a window or an aisle seat? –  ¿Prefiere ventana o un asiento de pasillo?
Can you tell me where the departure gate is? – ¿Puede decirme dónde está la puerta de salida?
Can I see your passport, please? – ¿Puedo ver su pasaporte por favor?
What is the purpose of your trip? Business or personal? – ¿Cuál es el propósito de su viaje? ¿De negocios o personal?
What time is the plane boarding? – ¿A qué hora es el embarque del avión?
What time is the plane scheduled to take off/land? – ¿A qué hora está previsto el avión para despegar/aterrizar?
Have a nice flight! – ¡Que tenga un buen vuelo!
Esperamos que os haya gustado este (mini) post y que os ayude en vuestro próximo viaje "Have a nice flight"